Our Guarantees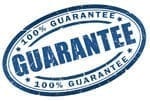 We're So Confident You'll Love Every Aspect Of Your Easy Living Kitchens Experience, We're Willing To Extend You These 7 Guarantees & Promises…
You won't find these anywhere else… GUARANTEED!
Easy Living Kitchens Guarantee #1
100% Satisfaction Guarantee – we promise your Kitchen will be built to the highest standards and finish possible, if you are not totally satisfied with any aspect of our work, let us know and we will work for FREE until rectified*
Easy Living Kitchens Guarantee #2
100% Unconditional, No Hidden Extras, Fixed Price Kitchen Supply Guarantee – Even if we find we have left something out in your kitchen design, you don't pay any more. What you signed off on is what you'll get and the quoted amount for the supply of your new kitchen is all you'll pay… GUARANTEED!!!*
Easy Living Kitchens Guarantee #3
$50 On Time Consultation Guarantee – we Guarantee you will never be left waiting for us if we have made an appointment with you for a quote. If on the rare occasion something goes wrong or out of our control and your Design Consultant is behind Schedule and you are not notified prior to your appointment, then even if they are just 1 minute late to your scheduled appointment, they will hand you $50 on the spot, no questions asked.*
Easy Living Kitchens Guarantee #4
$100 On Time Kitchen Delivery Guarantee – No one likes to be left waiting around or promised something and it doesn't happen. That's why with our State Of The Art Factory and expertise in process, we Guarantee that once Easy Living Kitchens have locked in your Kitchen Delivery Date that's the day it will arrive. If for any reason through any fault of ours your Kitchen doesn't arrive on that day then we will give you $100 just for the convenience.*
Easy Living Kitchens Guarantee #5
100% Always In The Loop Guarantee – With your own dedicated Customer Support Manager, you will never be left wondering 'what's happening next?' From placement of your order to delivery of your brand new kitchen and beyond you will know what to expect to give you the peace of mind and security everything is running to plan.*
Easy Living Kitchens Guarantee #6
100% Custom Designed and Manufactured Cabinetry – so you will not be restricted to limited sizes and styles offered by other kitchen companies. No more ugly gaps and odd sized in fills, no more kitchens that look like a handyman job with weird size cabinets and doors. From Easy Living Kitchens you will get a beautifully crafted, made to measure, personally designed, custom Kitchen that fits like a glove, looks amazing and feels so so good.… GUARANTEED!!!*
Easy Living Kitchens Guarantee #7
100% Australian Made and Locally Manufactured – Cabinetry, Bench tops and splashbacks. Supporting Brisbane Businesses and Local Families, keeping jobs in Brisbane for locals who take absolute pride in what they do creating your dream Kitchen and completing it to the highest standards and finish … GUARANTEED!!!*
BOOK YOUR FREE KITCHEN DESIGN CONSULTATION APPOINTMENT NOW!!!
Thank you so much for my lovely new kitchen. Your service and quality are very good and I have recommended you to my friends. 10/10
I love my new kitchen! Thanks Easy Living Kitchens for making the process so smooth. I'll have no hesitation recommending you to friends and colleagues.
I was very impressed with the level of customer service and communication you provided. The process was so easy, and everything happened as you promised. My new kitchen is beautiful and has everything I wanted. Thanks to the whole team at Easy Living Kitchens.
© Copyright 2019 Easy Living Kitchens Trust - ABN 54 614 716 746 - All rights reserved
GET IN TOUCH
Easy Living Kitchens
Address: 15/39 Pitta Pl, Carseldine QLD 4034
Phone: 1300 650 681
Email: [email protected] ATTENTION SEO COMPANIES - DO NOT CONTACT US
Office Hours: Mon to Fri: 9am - 5pm By appointment at other times
Easy Living Kitchens is Brisbane's Leading One Stop Shop Kitchen Renovation Company offering Exceptional Design, Service, Quality and an Industry Leading Hassle Free Renovation Experience. CALL US TODAY!